The Density
Energy density of nuclear energy is by far the most significant factor in reducing Carbon emissions. We all know that nuclear power is known as powerful. We think of phrases like "harness the atom" and "split the atom." What is hard to grasp about nuclear energy is just how much energy is contained in uranium, plutonium or thorium. It is because of this huge amount of energy created per unit of fuel that makes it so appealing.
From Booklet on IAEA website Energy density comparisons (fuel and land requirements)
The quantity of fuel used to produce a given amount of energy - the energy density - determines in a large measure the magnitude of environmental impacts as it influences the fuel extraction activities, transport requirements, and the quantities of environmental releases and waste. The extraordinary high energy density of nuclear fuel relative to fossil fuels is an advantageous physical characteristic.
One kilogram (kg) of firewood can generate 1 kilowatt-hour (kW·h) of electricity. The values for the other solid fossil fuels and for nuclear power are:
1 kg coal:
3 kW·h
1 kg oil:
4 kW·h
1 kg uranium:
50,000 kW·h
(3,500,000 kW·h with reprocessing)
Consequently, a 1,000 MW(e) plant requires the following number of tonnes (t) of fuel annually:
2,600,000 t coal:
2,000 train cars
(1,300 t each)
2,000,000 t oil:
10 supertankers
30 t uranium:
reactor core
(10 cubic metres)
The energy density of fossil and of nuclear fuel allows relatively small power plant areas of some several square kilometers (km²). The low energy density of renewables, measured by land requirements per unit of energy produced, is demonstrated by the large land areas required for a 1000 MW(e) system with values determined by local requirements and climate conditions (solar and wind availability factors ranging from 20 to 40%):
Fossil and nuclear sites:
1–4 km²
Solar thermal or photovoltaic

(PV) parks:
20–50 km²
(a small city)
Wind fields:
50–150 km²
Biomass plantations:
4000–6000 km²
(a province)
Comparing the energy output difference of Uranium to Coal
Comparing the energy output difference of Thorium in Molten Salt Reactors to Uranium to coal
Rod Adams: "Thorium is interesting, but I think most of its advocates are trying to solve the wrong problem. Low fuel cost and low waste production is already one of the largest advantages that nuclear fission has over its competitors. The problem that needs solution is lowering the capital cost barriers through repetition and process improvements that reduce time to market. We also need to help some people get rich enough from being nuclear specialists that they will supply the capital required for continued improvements in the technology. Take a hard look at the history of most large industries and you will find that they are expanded by people who achieve success in that industry and then reinvest because they understand it better than any bankers ever could. Though our current once through cycle is terribly inefficient from a resource utilization point of view, we are not actually throwing away useful material. We are simply storing it away in a form that gets easier to reuse with every passing year. In my opinion, the weapons proliferation argument is a clever distraction. Used material from power reactors is one of the least attractive raw materials for a weapons program; any group with the skill to possibly use it for a weapon has much simpler paths available. However, used material from power reactors is a reasonably attractive raw material for new reactors and that is what many "non-proliferation" specialists actually want to discourage."
Comparing liquid fuels for automobiles
Karl Denninger: "Liquid hydrocarbons are used for transportation because they have excellent energy density. We can't get close to that energy density with anything else today, and won't be able to to for a long time – so deal with reality instead of denying it, and put in place the infrastructure to make all of the liquid hydrocarbons we want to consume. Pass a law that any vehicle that can achieve 75mpg at 70mph on a level road on a continuous basis and will run on any mixture of two or more of ethanol, gasoline and diesel fuel (including biodiesel of any percentage) is emissions exempt. Do this and within five years half the car fleet will be getting that 75mpg which will more than double the fleet mileage from today's levels."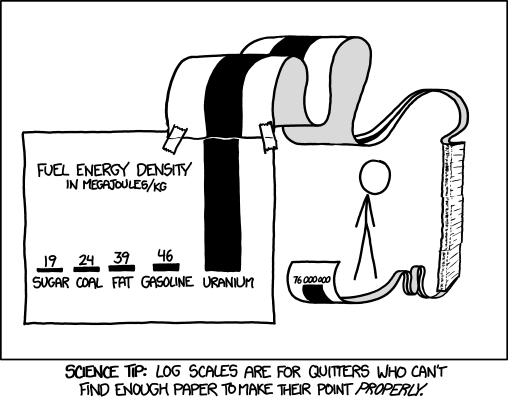 Explaining the good existing plants and designs and the advantages of new reactors and how the old ones are still good just not as good.